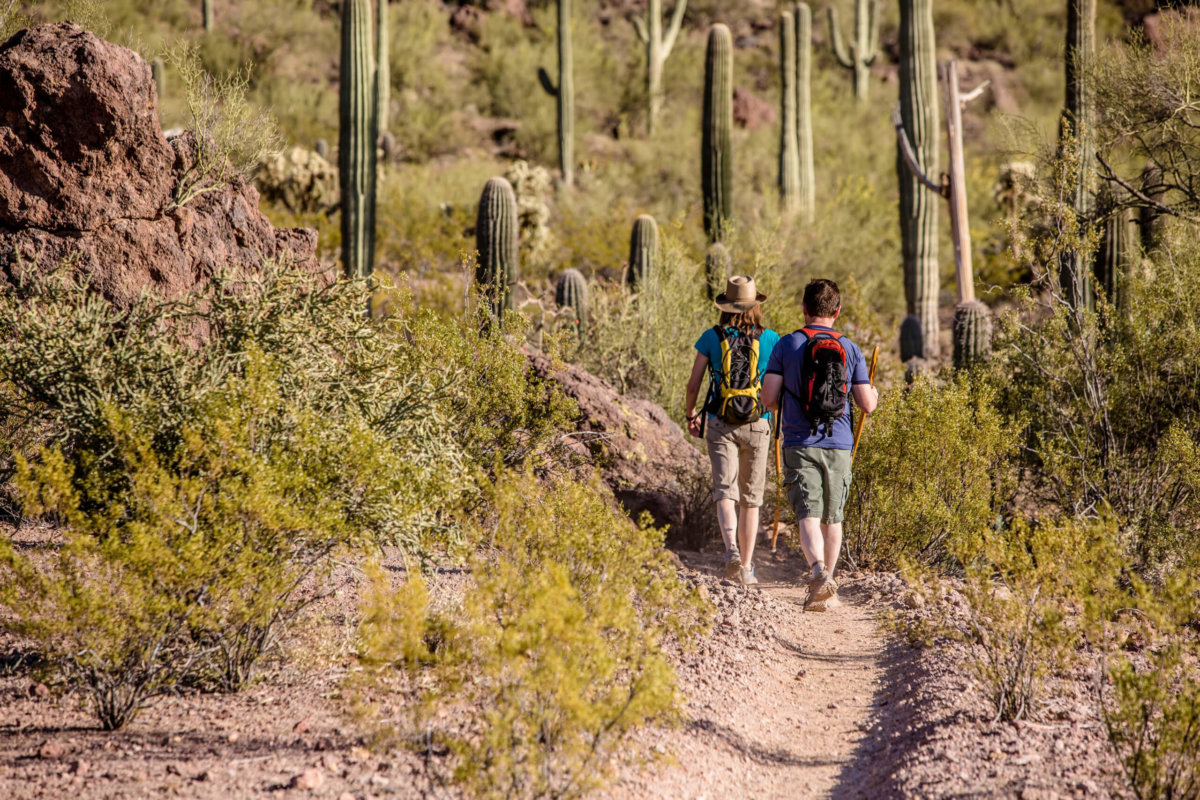 Arizona has more than 600 hiking trails, ranging from beginner-friendly to highly advanced. When you live in Sierra Vista, getting out on the trails is virtually irresistible, even if you've never been the hiking type before. With so many beautiful places to explore, you don't want to miss out on hitting the trails simply because you don't have experience hiking. These tips for beginning hikers will set the stage for you to explore Sierra Vista and the surrounding area in a new way while you grow your comfort level on the trails.
Leave No Trace
This rule applies to hikers of all experience levels, and it is something every beginning hiker should start with. "Leave no trace" means that you leave the area in the same condition in which you found it. Don't disturb the natural environment by leaving the trail, breaking branches, or otherwise interfering with the surroundings. Don't litter, and pick up waste you create to take with you and dispose of properly—this includes things you might think aren't a big deal to leave behind, like fruit peels. Be considerate of other hikers by avoiding loud music, keeping your pet under control, and yielding to hikers who are moving faster.
Start Slowly
As a hiker, it is better to go on a hike that you discover is too easy for you than to find yourself stuck on a trail that is too challenging. Pick trails that are designated for beginners, and make your first hikes short. Be sure to consider if a trail is flat or uphill, which will dramatically impact how challenging it is. Err on the side of caution, pick beginner-friendly hikes, and work your way to longer, more challenging trails.
Prepare for the Day
Preparation is the key to a good hike. Be sure to check out the trail you're going to hike in advance, so that you have some idea what to expect. Dress in workout clothes and sneakers—hiking boots are helpful, but most people find them uncomfortable until they are more experienced hikers. Pack a bag with more snacks and water than you think you'll need and some extra clothing layers, in cases the weather changes. Always check the weather before you hike, so you can adjust your plans if necessary.
Get the Timing Right
Hiking trails can get surprisingly crowded. On some popular trails, hikers have to wait in lines to access the trail or get to the summit of a mountain. Some beginning hikers prefer to go as early in the day as possible, to avoid crowds and hike without feeling rushed. Others like to go later in the day, when they know the trail will be crowded, because having lots of other people around makes them feel more comfortable. Decide which scenario works best for you. When you're deciding what time to go, be sure to also consider things like opening and closing times of trails and weather conditions.
Step Carefully
It's a good idea to be careful about where you're stepping when you hike. It is easy to twist your ankle on an unseen root or a rock that slips. It's also important to look down so you don't step on a snake, which is how most bites occur on trails. You don't have to keep your eyes down for the entire hike, but be sure you're actively watching the trail and not getting too caught up in conversations to watch where you're going.
Tell Someone Your Plan
No matter how experienced a hiker is, leaving behind a plan is essential. Even if you think your first hikes are low stakes, get into the habit of leaving your hiking plan with a trusted person now. Tell them where you are going, when you plan to start, and when you expect to be back. Although the likelihood of an issue occurring is very slim, if something does go wrong during your hike, someone will know exactly where to find you. Don't deviate from your plan without letting someone know.
Above all else, the best advice for new hikers is to have fun. There is so much to see on the trails in Arizona that you won't want to miss any of it. When you live in a Castle & Cooke community in Sierra Vista, some of the most striking scenery in the country is at your doorstep, so you're likely to become an experienced hiker in no time. If you want to find out how you can call this your home, contact us for more information about new houses in Sierra Vista by dialing (520) 378-5110.