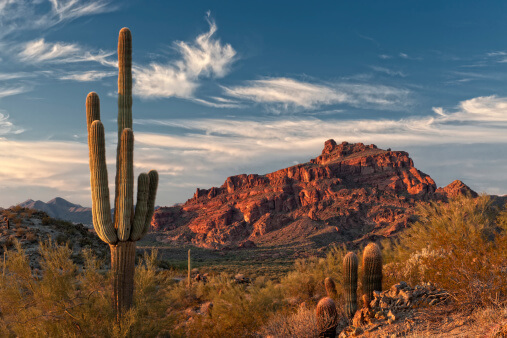 Cyclists of all ages and proficiency levels will find plenty to love about Sierra Vista, Arizona. For mountain biking and road cycling enthusiasts alike, this area is like a slice of heaven. In addition to the breathtaking mountain and desert views, Sierra Vista's prized cycling routes offer plenty of opportunities to sightsee in nearby towns.
Bisbee Loop
Endurance cyclists will love the Bisbee Loop, which is 60.8 miles of challenging climbs and exhilarating descents. It loops from Sierra Vista through Bisbee, and then back to Sierra Vista. Get ready to bike up about 1,500 feet in elevation up Highway 80. As you descend into Bisbee, take care to use the North Old Divide Road instead of the Mule Pass Tunnel. Take your time enjoying the many attractions in Bisbee, which is a historic copper mining town, before heading back home.
Coronado National Memorial
If you prefer a shorter route, try the 16-mile ride to and from the Coronado National Memorial. You can start at the Buffalo Soldier Trail or the St. Andrews/Equestrian Trail. You'll do some climbs and descents as you go into Hereford. Take a break here, and enjoy the Mexican or Italian dining if you wish. Then, you'll enter rolling hills before turning into Coronado Memorial Drive. The area offers great opportunities for hiking, mountain biking, and picnicking.
Brown Canyon Ranch
Mountain bikers in the Sierra Vista area love Brown Canyon Ranch. On Brown Canyon Trail, you'll climb about 1,900 feet in elevation. Some areas feature rocky terrain, so only go if you're an experienced mountain biker. If you try it, you'll be rewarded with some incredible mountain views. This trail connects with the Hamburg Trail to form a loop. Be sure to go on the well-worn path, rather than venturing into the Miller Peak Wilderness Area.
You'll have easy access to endless outdoor recreation opportunities as a resident of Sierra Vista, Arizona. Contact Castle & Cooke at (520) 378-5110 to ask about our beautiful new homes nestled within masterfully designed communities.