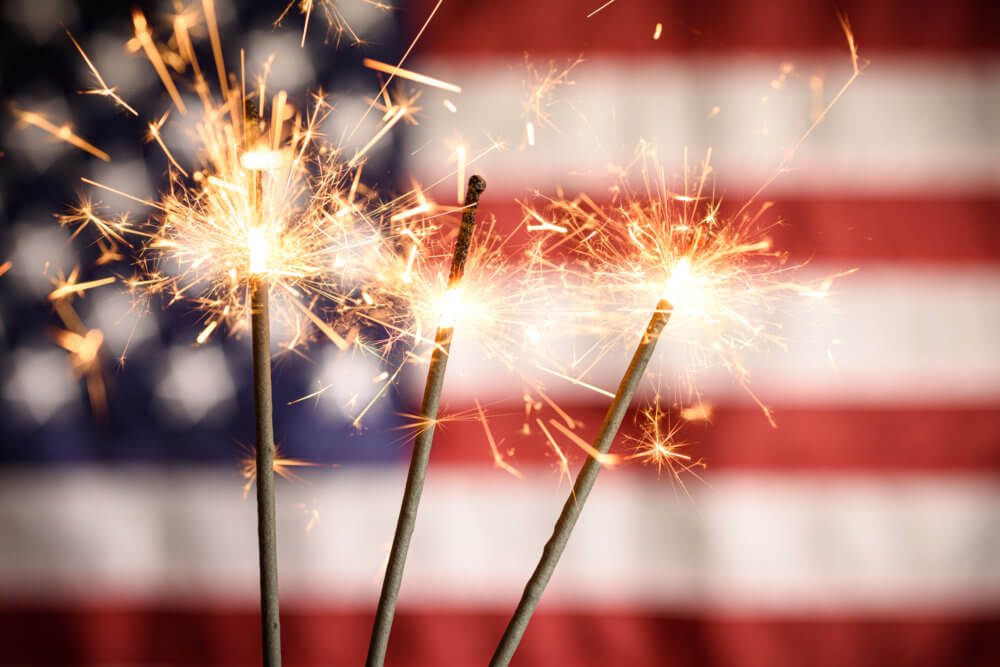 If you're anything like most Americans, it's safe to say you're probably looking forward to celebrating the Fourth of July this year. Independence Day, which commemorates the signing of the Declaration of Independence in 1776, is a federal holiday in the United States. It's also the occasion of a summertime celebration every year, which often spills over into the weekend. From special sales to fun outdoor events, many businesses and local communities are eager to find ways to celebrate—and Southern Arizona is no exception! 
If you're new to the Sierra Vista area, you may be wondering how we celebrate the birth of our country out in the Sonoran Desert. For most of us, celebrating Independence Day means fireworks, picnics, music, and much more! Fortunately, there are plenty of opportunities to do all those things near Sierra Vista this July Fourth. Here are some local Independence Day celebrations you may want to add to your calendar. 
Annual 3rd of July Youth Talent Show and Street Dance
In Sierra Vista, Independence Day celebrations kick off the night before the big day. The annual Youth Talent Show will take place from 6 to 7:30 p.m., and local blues band Train Wreck will play at the Centennial Pavilion from 8 to 11 p.m. In addition, there will be a talent show, dance, and food vendors at Veterans Memorial Park from 5 to 11 p.m. If you're eager to start your Fourth of July celebrations as early as possible, then come join us! 
52nd Annual July Fourth Celebration and Fireworks Show
Co-sponsored by the Sierra Vista Rotary Club, this fabulous event begins at 9 a.m. on the morning of July 4 and finishes up at 11 p.m. in the evening. The celebration includes a fun array of events, including live music, a chili cook-off, a troop riding and firing demonstration, and a special "Salute to the Union" ceremony at Veterans Memorial Park. Arts and crafts vendors will also be at the park all day long. The fireworks show begins at 8 p.m. and lasts one hour. Best of all, it's free to all to attend, so bring your family and friends! 
Fourth of July in Bisbee
If you'll be in nearby Bisbee for the Fourth of July, there are plenty of Independence Day events that you can check out. The annual fireworks show takes place beginning at 8:30 p.m. in Vista Park, but there's plenty of celebrating going on even before that. You can do coaster races in Tombstone Canyon starting at 7 a.m., have a drilling and mucking contest in Brewery Gulch from 1 to 3 p.m., and visit Vista Park for waterpark fun from 3 to 6:30 p.m. There's even a Fourth of July parade in the Warren neighborhood at 11 a.m. 
Fourth of July in Benson
If you're up in Benson for the Fourth of July, you'll still have plenty of fun things to do on America's birthday. There is an annual Fourth of July parade that begins at 9 a.m., starting at 120 W. Sixth Street. This year, the grand marshal of the parade is Congresswoman Martha McSally. Other events throughout the day include a water fight at 10 a.m., the playing of the national anthem at 8:28 p.m., and a fireworks show that begins at 8:30 p.m. If you're in the Benson area, don't miss this year's celebration! 
Fourth of July in Tucson
If your travels have taken you up to Tucson this July Fourth, you won't lack for activities at all. There are numerous events happening across town for Independence Day, including the annual fireworks demonstration at A Mountain, which begins at 9:15 p.m. There is also an earlier fireworks show at Kino Veterans Memorial Stadium at 6 p.m., and another one beginning at 9 p.m. at the Hilton Tucson El Conquistador Golf & Tennis Resort in nearby Oro Valley. Wherever you are in town, you're sure to have an opportunity to see some fireworks! 
If you're looking for the perfect place to plan your future in Sierra Vista, it's time to get in touch with Castle & Cooke. Our new construction properties in three distinct neighborhoods offer you the exceptional amenities and beautiful living space you deserve. Whatever type of home you are hoping to find, we will be happy to assist you in finding your dream house. If you would like to schedule a viewing or learn more about Castle & Cooke's selection of desert homes, visit us at our website or contact us at (520) 378-5110.