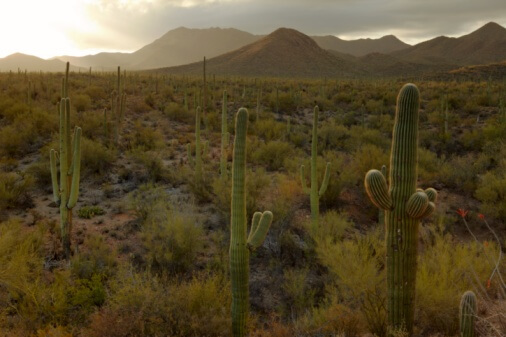 A product of the Indian Wars of the 1870s and 1880s, Fort Huachuca offered protection to settlers and travel routes throughout southeastern Arizona while blocking the Apache escape routes to Mexico. Captain Samuel Marmaduke Whiteside first created the post's current location on March 3, 1877. Fort Huachuca's location was chosen because of its fresh running water, abundance of trees, and protective landscape.
Geronimo's Surrender
In 1886, General Nelson A. Miles used Fort Huachuca as his advance headquarters and supply base for the Geronimo campaign. When Geronimo surrendered in August 1886, the Apache threat to Arizona essentially ceased. As a result, the army shut down more than 50 camps and forts in the territory. However, the army decided to keep Fort Huachuca open due to border troubles involving local Native Americans, Mexican bandits, and American outlaws.
Thunder Mountain
Named after an obscure, local Native American phrase meaning "place of thunder", the Fort Huachuca post rests at the base of the Huachuca Mountains. Locals also find the name fitting as the dark clouds, thunderclaps, and rain fall fill the air at certain times of the year. In March 1977, a four-day centennial celebration declared the original Fort Huachuca cantonment a National Historic Landmark. The northeast corner of Brown Parade Field still houses its rustic wooden sign and a reconstructed artillery piece.
Historical Museum
When Captain Whiteside led the army into southern Arizona, he never expected his temporary post at the base of the Huachuca Mountains to play a leading role in the drama of the western United States. The Fort Huachuca Historical Museum captures the fascinating history of the U.S. Army in the Southwest and pieces of Southwest history itself. Since its inception in 1960, the museum has grown to house one of the most representative collections of Southwest history in Arizona.
Call (520) 378-5110 to contact Castle & Cooke about homes for sale in Sierra Vista, Arizona. We are local commercial and residential homebuilders serving the community for more than 20 years. We also play a leading role in shaping the greater Sierra Vista community.