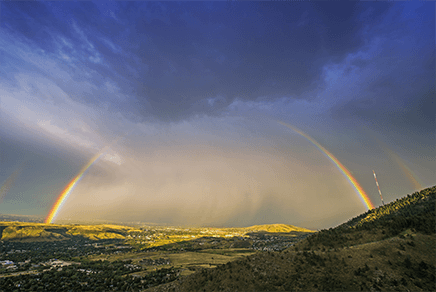 Sierra Vista translates to "Mountain View," and there is good reason that this southern Arizona town is so named. The town of Sierra Vista sits in the San Pedro River Valley and is surrounded by breathtaking mountain ranges—many of which offer amazing trails to traverse by bike, foot, or horseback. If you are a hiking enthusiast, then Sierra Vista is the perfect place to call home. Even in the summertime, you can find gorgeous hikes to discover at higher elevations where the temperatures drop, and larger alpine trees offer some much-needed shade. Of course, you should still come prepared with plenty of water, sunscreen, and snacks for your journey. If you're looking for that perfect hike to start exploring your new surroundings, consider one of the following.
Short Hikes
These hikes are perfect for family outings or for breaking in a new pair of hiking boots and building your stamina on the trail. They still offer some stunning views and chances to see diverse wildlife, but they won't take a full day to complete. Plus, they don't have any major elevation changes, so they are perfect for individuals of all fitness levels.

Reef Townsite Loop – This short, easy loop is only 0.75 miles long, but it is a beautiful walk offering a look at the area's mining history with interpretive trail signs describing remnants of the old town along the way. It is at 7,161 feet elevation, but the trail itself is relatively flat and smooth. There is also a campsite nearby, so you can make a longer trip with this hike.
Coronado Cave – If you are feeling a little more adventurous, pack a flashlight and head to Coronado National Memorial to visit Coronado Cave. The cave itself is about 600 feet in length with many crawlable passages. It is accessible from a short but steep trail. It is also the same temperature year-round, making it an ideal escape on hot summer days.
San Pedro River – The San Pedro River trail offers more than 50 miles of shaded hiking under the canopy of large trees that line the waterway. This area is accessible through many different trailheads, and it is a common spot for bird watchers to gather.
Ramsey Canyon Preserve – Ramsey Canyon Preserve does require admission to enter, but it is a beautiful canyon area with plentiful wildlife and a series of interpretive trail signs to help you appreciate the history and natural wonders of this area.
Perimeter Trail – The Perimeter Trail is accessible via Carr Canyon Road or Miller Canyon Road, and it covers 3.7 miles along the foothills of Carr and Miller Peaks. It can also be extended to a more challenging 8.5-mile loop with the addition of Clark Spring and John Cooper Trails.
Full Day Hikes
When you are in search of a more challenging hike, try traversing the area's peaks and canyons with the following moderate to difficult trails. These hikes are longer in length and have more dramatic elevation changes, so they are more fit for experienced hikers ready to spend a full day outdoors.

Arizona Trail – The Arizona Trail spans 800 miles from Mexico to Utah, but it can be enjoyed in bite-sized sections for amazing day hikes. You can access the trail from Coronado National Memorial and take as much or as little of it as you please.
Miller Canyon Trail – Miller Canyon Trail is a rigorous, 11-mile out-and-back trail that gains about 3,000 feet in elevation as you ascend. You can connect this trail to the Miller Peak Trail to reach a height of about 9,500 feet.
Carr Peak – You can access the Carr Peak trail from the Reef Townsite Trailhead, Ramsey Vista, or Carr Canyon. Depending on the start point, it is 5.5-6.2 miles long. The elevation change is about 2,000 feet on this moderately rated hike.
Brown Canyon Trail – You can access Brown Canyon Trail via Ramsey Canyon Road. It is a popular destination for both hikers and bicyclists, so you will need to be aware of bikers on the trail. The views from this 4.8-mile trek are unbeatable, however. As you rise from 5,000 feet in elevation to over 7,000, you will see a unique change in your surroundings with diverse wildlife.
If you are thinking of calling Sierra Vista your new home, then look to Castle & Cooke to find the perfect house to come home to after long weekend days on the trail. You can see our move-in ready homes as well as our customizable floor plans by visiting our website or give us a call to discuss what you are looking for in a new home. Call (520) 378-5110.